SWITCHING AMPLIFIERS

with IGBT technology
DYNAMIC SOLUTIONS Amplifiers can be purchased separately to replace other manufacturers older generation AB, C and MOSFET style D class Amplifiers.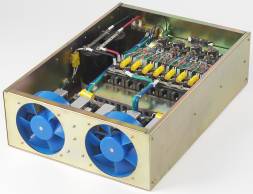 All DYNAMIC SOLUTIONS shaker systems are supplied with highly efficient digital switching power amplifiers. Our SA amplifiers use name brand top quality components and the latest in design engineering to guarantee you a system that is built to operate efficiently and reliably for years to come.
DYNAMIC SOLUTIONS Amplifiers use insulated-gate bipolar transistors (IGBT), which are a workhorse of a semiconductor. Capable of blocking extremely high voltages and conducting high currents with low losses, it is the switching element of choice for rugged applications where component failure is not allowable. IGBTs provide substantial advantages in terms of peak current ratings - this translates directly into reliability especially for random and shock test applications.
It will substantially outperform the nearest equivalent MOSFETs on the basis of: